Sustainability
Hyst Biomethane as transport fuel in the European Union
Use of traditional fossil fuels (gasoline and diesel) results in the emission of greenhouse gases to the extent of about 83,8 gCO2eq/MJ*. As of summer 2012 biofuels introduced into the EU market are required to reduce emissions by at least 35% (54,4 gCO2eq/MJ); biodiesel produced from palm oil imported from Asia is not able to meet this limit.
From 2017 emissions reduction requirements will be 50% (41,9 gCO2eq/MJ) and the most widely used biofuel in EU – biodiesel from rapeseed oil – will have to leave the scene.
From 2018 requirements will be for a reduction equal to at least 60% (33,5 gCO2eq/MJ) and, to date, only ethanol imported from Brazil is capable of meeting these standards..
Hyst biomethane produced from residues of agricultural activities in co-digestion with animal waste will not only easily meet European obligations but it will even absorb CO2 from the atmosphere (-9 gCO2eq/MJ). This result is possible because the Hyst system can make use of agricultural residues with minimal energy consumption, along with significant environmental benefits deriving from improved management of animal wastes.
GHG Emissions [gCO2eq/MJ]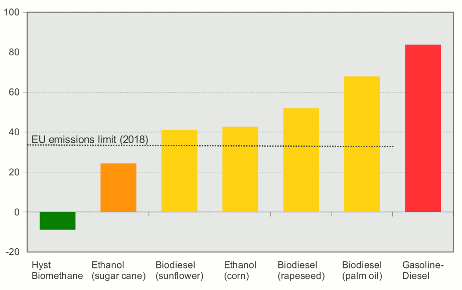 * Grams of CO2 equivalent per unit of energy (MJ) released by the combustion of fuel. Combustion of one liter of gasoline produces 32,2 MJ of energy and about 2,69 kg of greenhouse gases.