Fest-HYST – HYST flours day 2017 – December 17 2017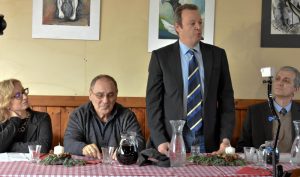 The "HYST Flours day" Celebrations for the start of the Cooperation project Bits of Future: Food for All in Senegal, took place on December 17th, 2017. The event was held at the Tenuta della Mistica, owned by our friends "Volontari Capitano Ultimo" association.
Lunch included bread, pasta, pizza and sweets made with HYST flour, which is produced using the whole wheat grain.
Today the food industry prefers refined flours and discards bran, the most external part of the grain, because it is considered too rich in fiber. This way the food industry discards the nourishing values of that seed part which is richer in protein, vitamins and minerals, fundamental to a healthy and balanced diet.
The HYST breaks down the bran's fibered structure making the precious nutrient available and the fiber digestible. This way the HYST revitalizes the flour by reestablishing the correct nutritional role to the whole wheat grain, with the same nutritive values harmony as nature did.
Also, The HYST presents numerous advantages in the field of renewable energies, because by pretreating vegetable residues it strongly increases the second generation biofuel productivity.