The Commissioner of DREA meets with Scienza per Amore – July 31 2014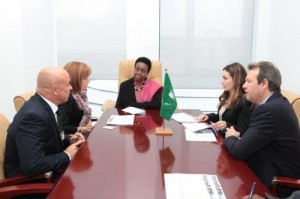 Addis Ababa, 31 July, 2014: Her Excellency Tumusiime Rhoda Peace, Commissioner for Rural Economy and Agriculture at the AU Commission received Mr. Pier Paolo Dell'Omo, President of the Scienza Per Amore (science at the service of love for humanity) and his delegation on 31 July 2014 in her office at the African Union Commission in Addis Ababa, Ethiopia.
The delegation, presented their technology to the Commissioner; it is called HYST which stands for Hypercritical Separation Technology. The main project is
"Bits for the Future: Food for All" for promoting the use of HYST. The project is already engaged with seven AU Member States, namely: Senegal, Cameroon, Somalia, Burundi, Rwanda, Djibouti and Congo Brazzaville. The project seeks to roll this out to the entire Member States of the AU.
The project aims to provide new technological tools for: contributing to the growth and prosperity of concerned areas, making the best of local resources. The introduction of Hyst in Africa will favor a solid economy based on a synergy between industry, agriculture and trade, which will in turn stimulate investment.
To this end, Mrs. Tumusiime reaffirmed the Commission of the African Union and specifically the Department of Rural Economy and Agriculture (DREA)
commitment to continue collaborating with Scienza Per Amore. Scienza Per Amore will also continue engagements with other AU Member States. DREA will notify Scienza per Amore and invite them to the relevant AUC-DREA-coordinated for a to present this technology and project for AU Member States' understanding and appreciation for eventual adoption.
The strength for sustainable development in Africa must stem from Africa itself, said Mrs. Barbara Carrubba, External Relations Officer at the Scienza per Amore. "The project is for Africa we don't plan to sell the product to Africa we want to bring it and work in Africa to help the African continent", she added.
This engagement augurs well for the on-going process of implementing the Malabo Declaration on Accelerated African Agriculture Growth and Transformation within the context of sustaining the Comprehensive Africa Agriculture Development Programme (CAADP) momentum.