A lunch with the Angels – December 3 2017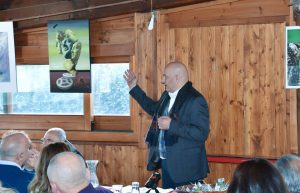 On December 3rd, 2017, the Associazione Volontari Capitano Ultimo Onlus (Captain Ultimo's Volunteers Association) hosted the event "a lunch with the Angels" during which bread and other food produced with HYST flour were offered to the guests.
The event also hosted 13 artworks about angels, realized by artist Barbara Peonia.
Angels that not only exist in high in the skies but also live among us, portrayed with Barbara Peonia's refined symbolism. Represented with the donating spirit, which is shared by the project Bits of Future: Food for All and the Associazione Volontari di Capitano Ultimo Onlus.
Commander Ultimo started the event by thanking the attendees and especially the artist, who donated her "angels" to the Association.
"We were looking for the Angels. That's how this event was conceived […] we looked for them and eventually we met Barbara Peonia. […] we talked about the Angels putting them together with HYST flour, which is produced from what is usually thrown away, making a new life-supporting product […] Scienza per Amore is the Association that has been fighting for this throughout the years, through many difficulties. We must give it to them and honor them for they deserve it."
The Association Scienza per Amore participated in the festivity by bringing food produced with the HYST flour: it comes from a gift which supports with food and energy, it is the Hypercritical Separation Technology. In fact during the event, the guests had the opportunity to taste HYST pasta, bread, pizza and sweets.
Engineer Pier Paolo Dell'Omo, president of Scienza per Amore, talked about how the project Bits of Future, conceived by Danilo Speranza and promoted by the association, in synergy with the African Union, has started from Senegal.